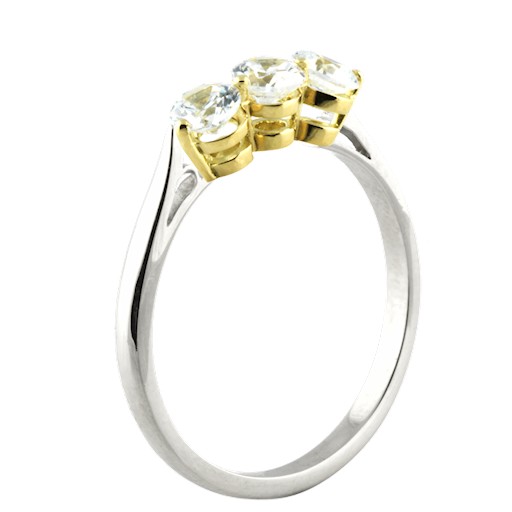 Diamond and Setting
Carat Weight Central Diamond
Carat is the size of the diamond. If two diamonds are the same exact grade, the larger one will be more expensive.
Carats Stones Side
This option cannot be changed. The proportions of the diamonds on the side are set to the size of the center diamond, with only small variance being possible. This options adjusts automatically after user is done with first size selection.
Color
The color of a diamond also determines the price. Whiter diamonds are more expensive. K is the lowest, yellowest graded diamond we have in supply, and D is the whitest, highest grade color commercially sold.
Clarity
The clarity of a diamond is a measure of how many imperfections are in the diamond, called inclusions. The less inclusions found in a diamond, the higher its grade is. In this aspect SI2 is considered low grade with very large defects, and FL being the highest grade. FL is considered Loop Clean with no visible imperfections whatsoever. FL diamonds are extremely rare.
Cut
Proper cut proportions are crucial to bringing out the beauty in diamonds by reflecting the light inside in a beautiful manner. Excellent is the highest quality and most expensive cut. If the cut is too far from the ideal it will not look as good

Customize Ring Style
Ring Size
Choose your ring size
Learn more
Please choose your ring size!
If you would like to vote, please select the amount of stars.
Custom Diamond Ring Creator
4.6

out of

5

based on

95

user ratings
Instructions on Creating Your own Custom Diamond Engagement Ring
Press [x] to expand the page and read more about out Diamond Engagement Ring Customizer

Download the App on Android!